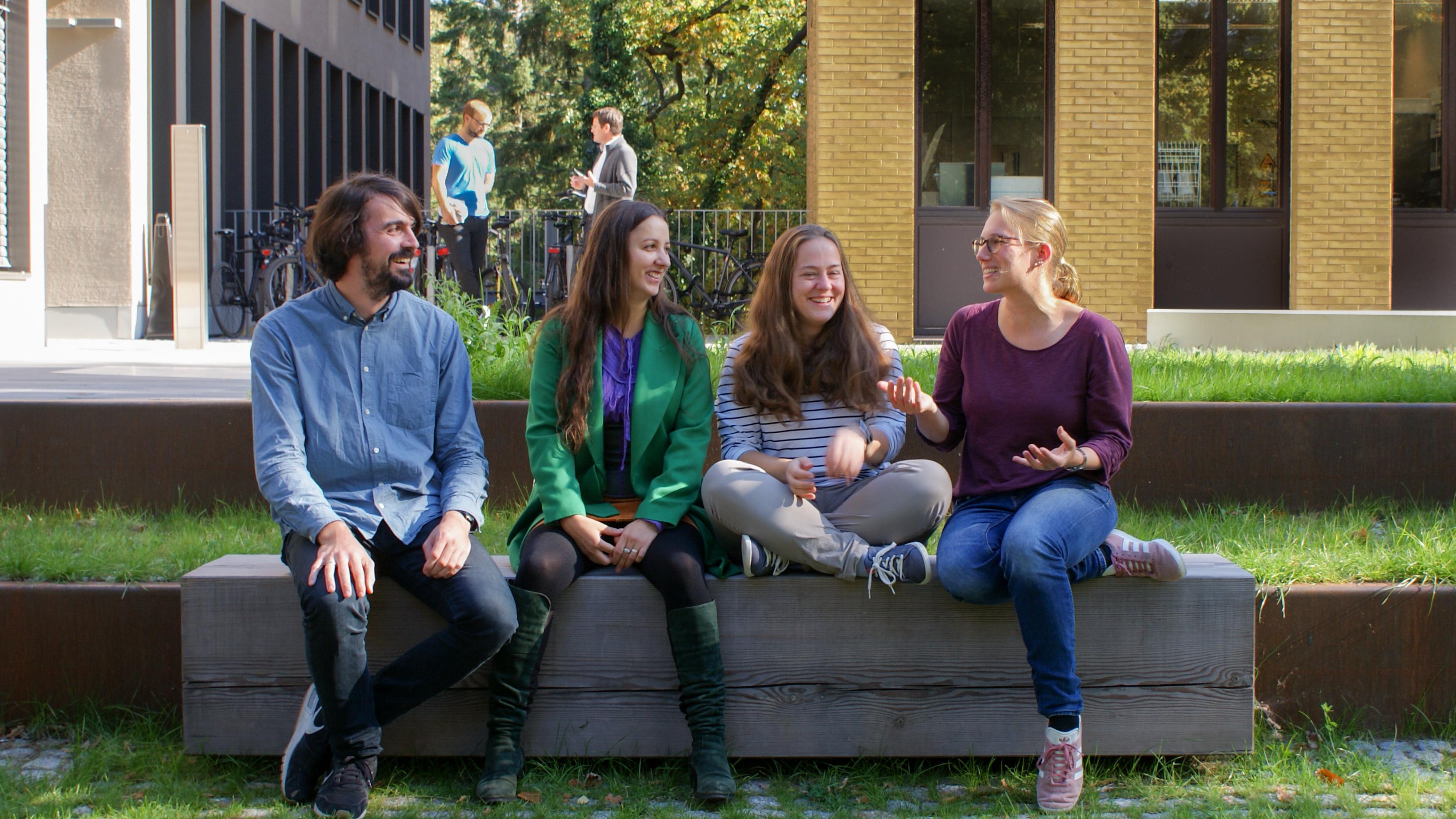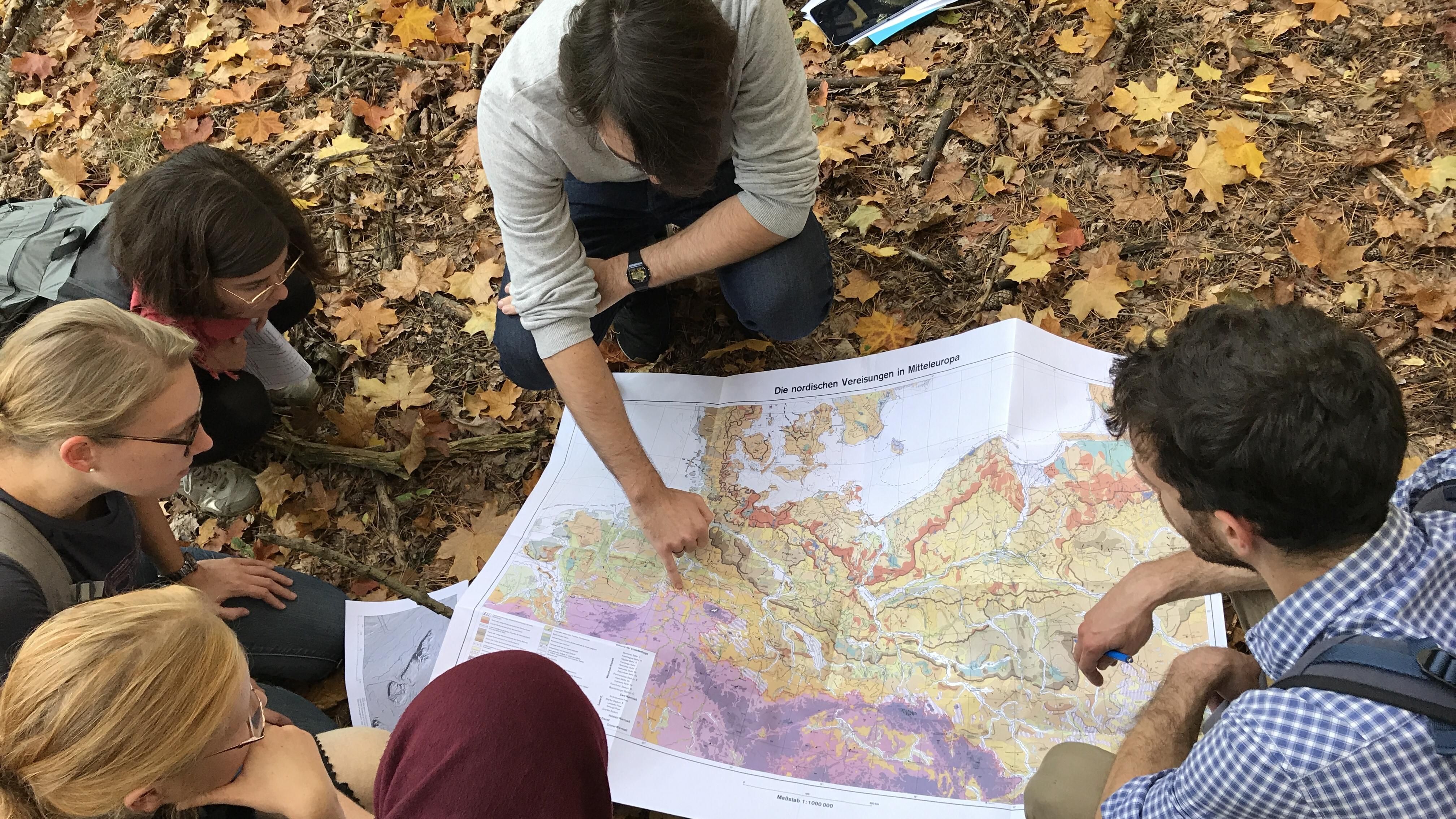 Welcome to the Early Career Scientist Section (ECS)
We are the network for doctoral candidates and postdocs working in the field of Earth sciences and related research disciplines within Geo.X. With this section we want to provide a platform for you
to create networking opportunities amongst young geoscientists in Berlin and Potsdam
to foster the exchange across all Geo.X partner institutions
to discuss current issues of geoscientific research and related fields
to provide an opportunity to present and discuss your projects
to distribute interesting and informative content
The ECS-Section lives by the particpation and engagement of every early career researcher who brings ideas and questions into the network, or who wants to organize events that help to advance early stage scientific careers.
There are various ways of getting involved!
If you have ideas, questions or any remarks, please contact the core team at early-careers@geo-x.net. We are happy to hear from you!
For informal peer communication we have a slack channel, please send an request to access to lisa.rheinheimer@geo-x.net.
For receiving newsletter and information you can subscribe to our mailing list by following the button below.
Coming up - new events
Due to the Corona pandemic we did not plan any events that involve personal meetings. However, we have not been lazy and thought of new activities and other formats that we could offer.
Please stay tuned for the next newsletter announcing events and most importantly
ECS-Representatives
The ECS Section is headed by the currently elected ECS-representatives Dr. Melanie Sieber (GFZ) and Christian Riedel (FU Berlin). They support the interests of early career researchers in the Geo.X Steering Committee. Together with the ECS-core team they organize and advance the section activities and events. The core team consists of interested early career researchers, who want to work on the strategic and operational development of the section. The ECS Section is supported by Dr. Jacob Hardt, the Geo.X coordinator of FU Berlin, it operates in close collaboration with the Geo.X Head Office.
Dr. Melanie Sieber
GFZ Potsdam
Many young scientists may face similar challenges, such as applying for funding or stress and anxiety generated by the 'publish or perish' culture. Therefore, knowing where and how to get support is essential, in particular, for Early Career Scientists (ECS).
As an ECS Representative, I would like to build an active network and platform for young scientist to provide them with all information needed to develop and reach their scientific and personal goals. This can be achieved by organizing career developing workshops on e.g. funding-opportunities, science communication (paper-writing, oral-presentations, media-outreach) and newsletters.
Furthermore, I would agitate for counseling support and regular, informal get-together to establish a welcoming environment for young scientists across and within the Geo.X institutes.
Christian Riedel
FU Berlin
My name is Christian Riedel, I got a B.Eng. and M.Sc. in Geoinformation (GIS and remote sensing) from Beuth University of Applied Sciences in Berlin and am now in my third PhD year with the Planetary Sciences and Remote Sensing group at Freie Universität Berlin. In my research, I investigate how crater obliteration affects our interpretations on lunar surface evolution. During my bachelor and master studies, I had the opportunity to spend research visits with partner institutions in sub-Saharan Africa (Ethiopia, DR Congo, and Namibia). That was great because it motivated me to work in science.
Overall, I am strongly convinced that motivation plays a fundamental role in the promotion of young talents. From my experience, I can say that an exchange on equal terms and the possibility of financing is a very great support. Thus, I am glad to be part of a research network that encourages just that. I would like to continue the good work of Sarah and Teo and continue to engage in active exchange to motivate us in our work and to strengthen cooperation in the Geo.X network. For this purpose, I joined the Geo.X ECS community.
ECS - Core Team
Rutu Parekh
DLR Berlin
I am pursuing my PhD in the field of Planetary science in Berlin (Aug., 2018) under DLR-DAAD fellowship. Before this, I spent a year in England and finished my M.SC with major in Earth Science from University of Bristol under Chevening Scholarship. My main research focuses towards the study of the volatile in shaping the surfaces of icy planetary bodies using satellite images and spectroscopic data.
Apart from my scientific interest I have been associated with coordinating and planning various workshops and conferences since my undergraduate days. Currently, I am serving as secretary of Europlanet Diversity Committee (since 2018), where we promote equality and prejudice free scientific environment. At the same time I am also keen in communicating science through art. Personally, I am deeply interested in learning and exploring various aspects of professional spectra beyond the scientific field. If given the opportunity, I intend to expand my knowledge of planning and management skills to shape stronger and ingenious early career community within Geo.X platform. Even though I am still amateur to Geo.X, I strongly believe that my enthusiasm and experiences will be helpful to expand the early career network in all measurable standards.
Subham Mukherjeer
FU Berlin
I am Subham Mukherjeer, all the way from India to pursue PhD in Physical Geography at the Freie Universität Berlin.
I have three different master's degrees in different sectors of water and geographical sciences from universities across the Globe (India, UK, Portugal and Germany). Therefore, I can clearly see the benefit of knowledge sharing and collaborative approach for any research and management plan within the realm of Geo-sciences.
I strongly believe in comprehensive and inclusive platform, for which Geo.X has already been set itself as an exemplary network. My sincere passion for joining this wonderful team of Early Career Scientists' team is founded on this very idea of sharing the knowledge and caring the future of our Mother Planet.
Dr. Elisabeth Dietze
AWI Potsdam
My name is Elisabeth. I am a PostDoc at AWI Potsdam and would like to support and represent you within the Geo.X network. With my experience from three Geo.X institutions as well as other international science systems, I have learned that it is essential for ECS to experience creativity, motivation and joy in doing science on the sometimes bumpy roads of a career.
In close communication with you, I would support the continuation of excellent networking events, and promote a proper choice of tailored soft skill training initiatives, and mentoring programmes that can facilitate life in science and beyond.
Geo.X ECS Workshop "Scientific Talking" - 09.05.2019
Led by Dr. Christopher Kyba (GFZ), organized by the ECS team
ECS Get-Together, 31st of January 2019
Representatives Elections - outcome
On 31st of January, Early Career Scientist Section members met at TU Berlin's Geodätenstand for a Self-Presentation workshop and an informal Get-Together.
New representatives have been elected for the next term, from spring 2019 until summer 2020. Dr. Sarah Cichy and Dr. Melanie Sieber officially represent the Geo.X ECS section during the next 3 consecutive Geo.X steering committee meetings.
Christian Riedel (FU Berlin) and Rutu Parekh (DLR Berlin) were chosen as deputy representatives. Additionally, the ECS core team has been extended to include also Subham Mukherjeer (FU Berlin) and Dr. Elisabeth Dietze (AWI Potsdam).
Geo.X ECS Workshop "What's next Doc?" - 05.07.2018
ECS meeting for learning about funding opportunities and BBQ
At the desire of the Geo. X ECS members for more transparency and accessibility in terms of finding new projects and research possibilities, this event was organized and focused on improving the knowledge base on German/international funding agencies, scholarships, eligibility criteria and tips for optimizing the application process.
At Geocampus Lankwitz, the presentation was held by Dr. Dirk Wenske, who generously explained the steps of an application process, the people targeted by funding agencies, conditions for obtaining certain grants and many more.
The event was a successful experience, because it brought together a large number of young researchers who were curious and eager to explore the German and international spectrum of possibilities, in order to fulfill their personal and professional development. An important topic brought about by some ECS members was the need to improve family policies, especially in the case of international mobilities or fellowships. Another key topic was the need to decrease the bias of funding opportunities towards postdoc grants and to cover the entire spectrum of phd/postdoc.
Following the presentation, the ECS members gathered at a barbecue organized by the Geo.X, where they could share their thoughts, ideas and questions. While many researchers were very happy to meet new ECS members, some ECS members wished for more interaction between young researchers and decision makers such as principal investigators, professors and funding agency employees. The need to organize regular meetings and maintain the "pulse" of the young interactions was also mentioned by some ECS members, who wish to optimize exchange, in order to develop project collaborations and write joint publications.
On the other hand, social media also plays an important role to actively maintain and increase the Geo.X network. At the request of ECS members, a better promotion of the Geo.X Slack channel is currently planned.
Overall, the event broadened the horizons of young researchers in terms of exploring funding opportunities, optimizing the application process and finding the grants that fit each person's needs and qualifications.
We, the Geo.X team, hope to see you at the events coming up!