Please click on the link-sensitive areas!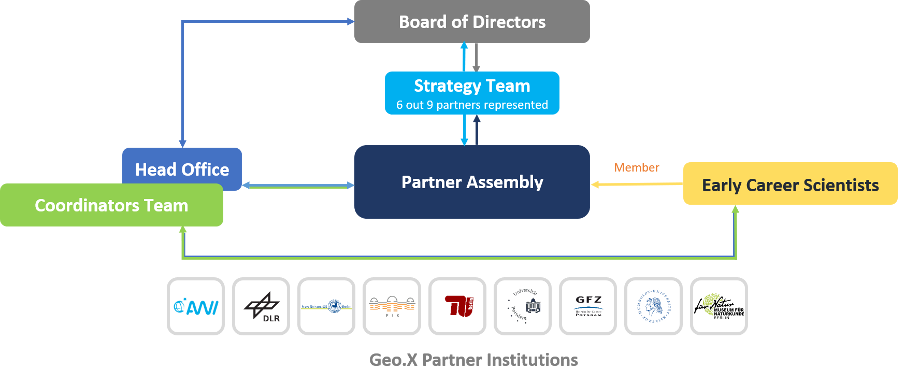 The Partner Assembly is responsible for the scientific-strategic representation of the interests of all partner institutions. It discusses the recommendations of the Strategy Team and advises it in its decision-making. All partners send representatives to the Partner Assembly.
Each partner appoints one member of its governing body ("Executive Board" or "Presidium") to the Board of Directors. The Board of Directors decides on the fundamental and financial issues of the research network, on the basis of the recommendation of the Strategy Team.
The Geo.X Head Office is the main point of contact for network partners and manages all network activities. It supports the work of the Board of Directors, the Speaker and the Strategy Team in planning and implementing the strategy and bundles the activities of the Coordinators Team.
Speaker
The Speaker is elected by the Strategy Team and chairs both the Strategy Team and the Partner Assembly. The Speaker represents Geo.X and is subject to reporting to the Board of Directors.
The Strategy Team elaborates the strategic focus of Geo.X, monitors its development and defines evaluation criteria to review of the measures. It presents the strategic recommendations to the Board of Directors after consultation with the Partner Assembly.
The Strategy Team consists of six members appointed by the Board of Directors. The members of Strategy Team cover the professional spectrum of Geo.X as best as possible and represent the interests of the university and non-university contracting partners who are not part the Strategy Team.
Each partner appoints a coordinator. The members of the Coordinators Team are responsible for interface management between the Geo.X network and the individual partners and for the coordination of specific network elements.