Welcome to the Geo.X Young Academy
Our goal is to train a new generation of outstanding young scientists based on a strong collaboration systematically linking methodological expertise from the areas of Earth sciences and all related research disciplines. With this approach we aim to establish a new quality in the cooperation with engineering and computer sciences, natural sciences, social and economic sciences.
Optimal working and training conditions are key factors in attracting high-potential earlystage researchers to the Geo.X network partners. Within the Geo.X Young Academy all partner institutions pool their strengths to support young scientists in developing unique scientific profiles, embed them in an innovation-fostering, enriching environment and prepare them to be appreciated cooperation partners and successful ambassadors for the geoscience region Berlin and Potsdam.
We offer a career development program that covers interinstitutional collaborations, interdisciplinary supervision, additional training courses (e.g. summer schools, workshops, and seminars organised by peers) and soft skills training. The doctoral training concentrates on providing interdisciplinary, method-oriented competences.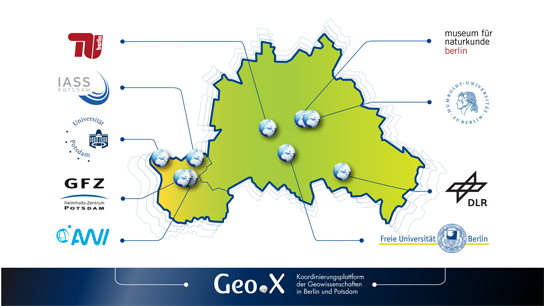 ---
The second application round has now been closed.
Thanks to all applicants for their interest.