Geo.X – a forward-looking research profile
Through its partners, Geo.X brings together geoscientific research relating to all spatial and time scales. The scientists at the partner universities and institutions investigate the wide-ranging interactions between the solid earth, hydrosphere, atmosphere and inhabited world. But what role do human beings play in this complex system?
To gain a better understanding of these reciprocal effects, the scientists conduct basic research into the Earth System and make use of these findings in applied research. The development of technologies and methods together with the provision of services allow the practical application of results and their dissemination among politicians and the general public.
The more profound understanding of Earth System processes achieved by this concerted effort paves the way for the development of sustainable strategies for managing the Earth/Human system.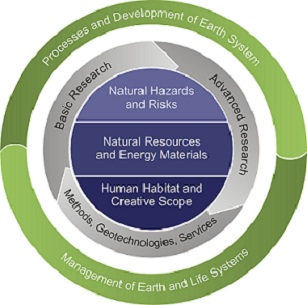 Key research areas of Geo.X
Key research areas of Geo.X